Date: Friday, 22 April 2022
Time: 9am to 5pm
Venue: Online via Zoom
Registration Fees: $100.00 (SRMEG/GeoSS/TUCSS Members)
                              $150.00 (Non-members)
To register, please click here.
Course Summary
1. Planning, methods and phases of site investigation
2. Geophysical exploration methods
3. Drilling, borehole and core logging
4. Field and laboratory rock testing
5. Geotechnical investigation and interpretative reports
6. Digital data and digital presentations
7. Site investigation cases and engineering applications
About the Speaker
Prof. Zhao Jian, currently at Monash University Australia, is a university professor and engineering specialist covering research, teaching and consulting on rock mechanics, geotechnical engineering, tunnelling and mining. He is an Honorary Member of the Society for Rock Mechanics & Engineering Geology (SRMEG) and of the Tunnelling and Underground Construction Society (Singapore), and was a Tan Swan Beng Endowed Visiting Professor at NTU Singapore.
As a distinguished researcher and dedicated educator, as well as a senior consulting engineer, his expertise are on geological investigation, rock excavation and support, TBM tunnelling, rock dynamics and earthquake, rock cutting and fragmentation, groundwater and enhanced geothermal energy, and underground space planning.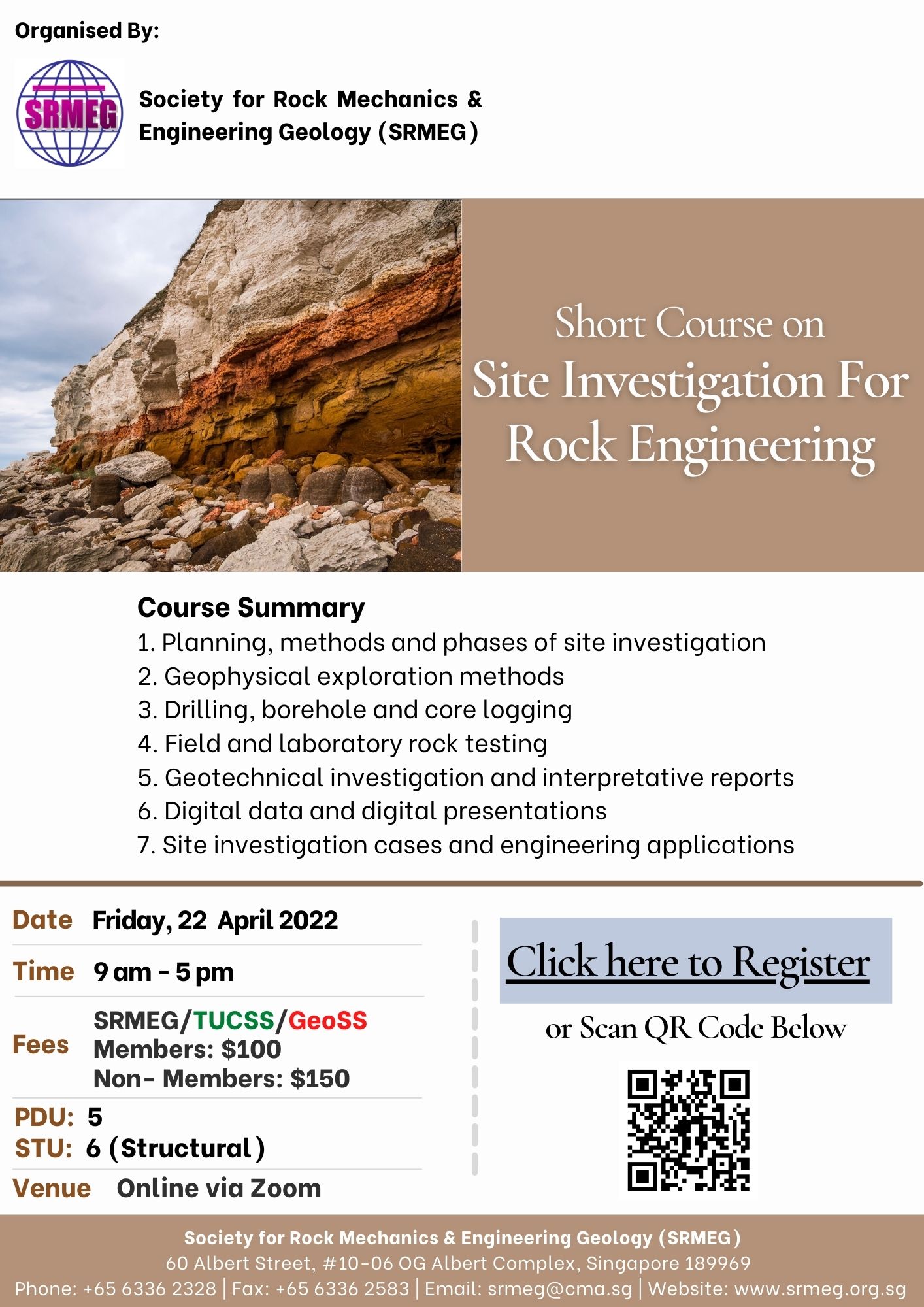 Permanent Sprayed Concrete Linings 
by Dr. Alun Thomas, All2plan Consulting ApS
Friday, 5 November 2021 // 7.00pm to 8.30pm

Tunnel Excavation under Severe Geological Conditions & Deformation Controlled Tunnel Supports
by Mr. Kensuke Date and Dr. Yasuhiro Yokota, Kajima Technical Research Institute Singapore
Friday, 3 December 2021 // 7.00pm to 8.30pm
Real-Time Monitoring
by Mr. Darrin Couch and Mr. Steven Sparrow, Global Sensing Solutions, Hong Kong
Friday, 28 January 2022 // 7.00pm to 8.30pm

Innovations in Grouting Technology
by Dr. Alun Thomas & Mr. Dean Eric Fluke, Nordic Geo Support AB, Sweden
Friday, 11 February 2022 // 7.00pm to 8.30pm
EFNARC Nozzlemen Certification
by Mr. Louis Fraser, T&M Specialists
Friday, 25 March 2022 // 7.00pm to 8.30pm
KOINOR - A cement-free shotcrete for the upgrading of tunnels and underground infrastructure
by Dr.-Ing. Gotz Vollmann, Institute for Tunnelling & Construction Management, Ruhr-University Bochum
Friday, 29 April 2022 // 7.00pm to 8.30pm
Low Carbon Sprayed Concrete (LCSC)
by Mr. Chris Peaston & Mr. Chris Goodier
Friday, 27 May 2022 // 7.00pm to 8.30pm
The hyperTunnel Process
by Mr. Patrick Lane-Nott, hyperTunnel Ltd UK
Friday, 24 June 2022 // 7.00pm to 8.30pm
The effect of geologic conditions on the fire behaviour of tunnels considering soil-structure interaction
by Dr. Nan Hua, Mott Macdonald
Saturday, 6 August 2022 // 9.00am to 10.30am